Sprawdź ofertę Deals with Gold i nowe promocje na ulubione tytuły w wirtualnym markecie Xbox.
Szukacie nowych gier dla siebie w promocyjnych cenach? Oferta Deals with Gold pozwoli zaoszczędzić Wam trochę grosza na cyfrowych produkcjach, a ta co tydzień zmienia się, dostarczając nowe promocje. W tym tygodniu na liście znajdziemy wiele nowości i hitów, jak Just Cause 4, Kingdom Hearts III, Shadow of the Tomb Raider czy Far Cry New Dawn.
»Zobacz również: Wyprzedaż najlepiej ocenianych gier w sklepie Xbox do -75%!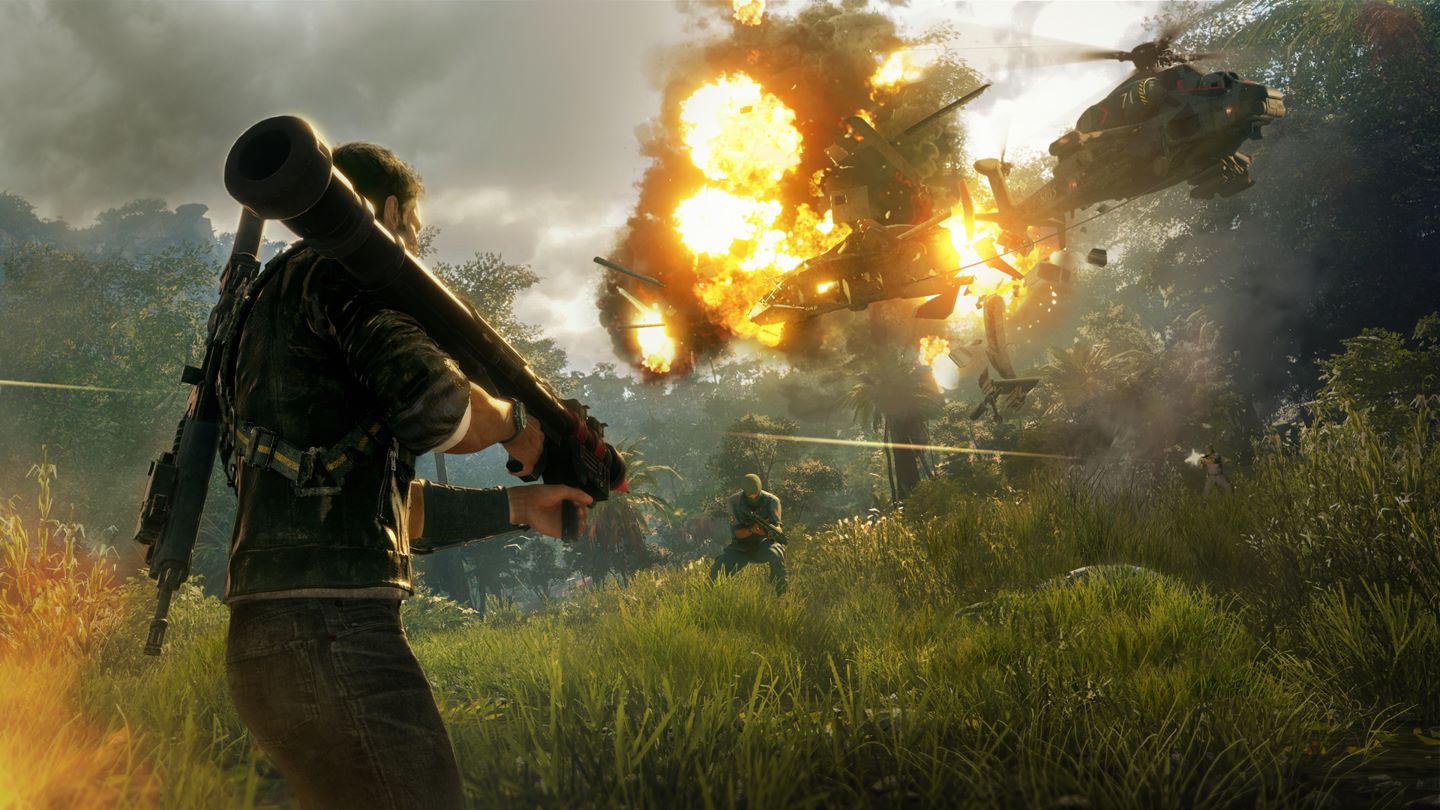 Pełną listę Deals with Gold w polskiej walucie prezentujemy poniżej:
Xbox One
*Oferta dostępna wyłącznie dla posiadaczy Xbox Live Gold.
---
Xbox 360
| Tytuł | Cena | Zniżka | BC |
| --- | --- | --- | --- |
| Battlestations Pacific | 19,99 ZŁ | 75% | Tak |
| Deus Ex: Human Revolution | 5,90 ZŁ | 90% | Tak |
| Deus Ex: Human Revolution Explosive Mission Pack | 3,29 ZŁ | 70% | Tak |
| Deus Ex: Human Revolution The Missing Link | 3,41 ZŁ | 85% | Tak |
| Duke Nukem Forever* | 15,99 ZŁ | 80% | Tak |
| Dungeon Siege III | 11,80 ZŁ | 80% | Tak |
| Farming Simulator 15 – Lamborghini Nitro 120* | 1,80 ZŁ | 50% | Nie |
| Farming Simulator 15 – New Holland* | 13,79 ZŁ | 50% | Nie |
| Farming Simulator 15 – Niva* | 3,59 ZŁ | 50% | Nie |
| Final Fantasy XIII | 27,49 ZŁ | 50% | Tak |
| FINAL FANTASY XIII-2 | 34,99 ZŁ | 50% | Tak |
| Grand Theft Auto V* | 39,50 ZŁ | 50% | Nie |
| Guncraft: Blocked and Loaded * | 17,49 ZŁ | 50% | Nie |
| Gyromancer | 27,49 ZŁ | 50% | Tak |
| Just Cause | 4,90 ZŁ | 90% | Tak |
| Just Cause 2 | 5,99 ZŁ | 90% | Tak |
| Kane & Lynch 2 – Alliance Weapon Pack | 2,19 ZŁ | 80% | Tak |
| Kane & Lynch 2 – Multiplayer Masks Pack | 1,79 ZŁ | 75% | Tak |
| Kane & Lynch 2 – The Doggie Bag | 6,39 ZŁ | 75% | Tak |
| Kane & Lynch 2: Dog Days | 11,80 ZŁ | 80% | Tak |
| Kane & Lynch: Dead Men | 13,99 ZŁ | 80% | Nie |
| L.A. Noire* | 38,70 ZŁ | 70% | Nie |
| Lara Croft and the Guardian of Light | 5,99 ZŁ | 90% | Tak |
| Lara Croft Tomb Raider Anniversary | 6,99 ZŁ | 90% | Tak |
| Lara Croft: Guardian of Light – Things That Go Boom Challenge Pack 2 | 2,39 ZŁ | 80% | Tak |
| Life is Strange Season Pass (Episodes 2-5) | 12,79 ZŁ | 80% | Nie |
| LIGHTNING RETURNS: FINAL FANTASY XIII | 39,50 ZŁ | 50% | Tak |
| Mini Ninjas | 6,90 ZŁ | 90% | Nie |
| Murdered: Soul Suspect | 5,90 ZŁ | 90% | Nie |
| Quantum Conundrum | 8,74 ZŁ | 75% | Tak |
| Rise of the Tomb Raider | 39,99 ZŁ | 80% | Nie |
| Rise of the Tomb Raider Season Pass | 22,49 ZŁ | 75% | Nie |
| Rise of the Tomb Raider: Baba Yaga: The Temple of the Witch | 8,74 ZŁ | 75% | Nie |
| Rise of the Tomb Raider: Endurance Mode | 8,74 ZŁ | 75% | Nie |
| Scary Girl | 5,24 ZŁ | 85% | Nie |
| Sid Meier's Civilization Revolution* | 24,99 ZŁ | 75% | Tak |
| Sleeping Dogs | 10,49 ZŁ | 85% | Nie |
| Sleeping Dogs – Nightmare In North Point Pack | 3,83 ZŁ | 85% | Nie |
| Sleeping Dogs – The Year of the Snake | 3,83 ZŁ | 85% | Nie |
| Sleeping Dogs – The Zodiac Tournament Pack | 5,39 ZŁ | 70% | Nie |
| Stacking* | 8,24 ZŁ | 85% | Tak |
| Supreme Commander 2 | 14,75 ZŁ | 75% | Tak |
| Thief | 5,90 ZŁ | 90% | Nie |
| Thief – Booster Pack: Ghost | 1,80 ZŁ | 50% | Nie |
| Thief – Booster Pack: Opportunist | 1,80 ZŁ | 50% | Nie |
| Thief – Booster Pack: Predator | 1,80 ZŁ | 50% | Nie |
| Thief – The Forsaken – Challenge Map | 2,69 ZŁ | 85% | Nie |
| Tomb Raider | 7,89 ZŁ | 90% | Nie |
| Tomb Raider Adventure Pack Unlock | 3,58 ZŁ | 86% | Nie |
| Tomb Raider Online Survival Pack Unlock | 3,58 ZŁ | 86% | Nie |
| Tomb Raider Outfit Pack | 2,74 ZŁ | 75% | Nie |
| Tomb Raider Outfit Pack 2 | 1,79 ZŁ | 75% | Nie |
| Tomb Raider Underworld | 6,90 ZŁ | 90% | Tak |
| Tomb Raider: 1939 Multiplayer Map Pack | 3,62 ZŁ | 75% | Nie |
| Tomb Raider: Legend | 6,99 ZŁ | 90% | Tak |
| Tomb Raider: Tomb of the Lost Adventurer | 1,86 ZŁ | 83% | Nie |
| Tomb Raider: Underworld – Lara's Shadow | 3,84 ZŁ | 89% | Tak |
| Yosumin! LIVE | 17,49 ZŁ | 50% | Tak |
Szanuję każdą platformę do gier. Jestem wielkim fanem festiwalu Horizon, co-opowych platformówek i zręcznościówek. Na co dzień przeciętny gracz, dumny tata, troskliwy mąż.  | Co-Founder WorldofXbox.pl